Today there are numerous solutions and services that offer digital or interactive menus , something that has increased significantly with the Covid-19 pandemic. Undoubtedly, many of these services have a powerful and competitive platform behind them that provides added value, but unfortunately in many cases we find solutions that do not contribute anything, and that have been limited to offering a QR Code and an online PDF . If we take a tour of the restaurants in the area, we will mainly find the second case.
I think there are two very different ways of understanding digitization or digital transformation . On the one hand, converting something physical into an electronic document (it is enough to scan a letter to convert it into digital) to be able to say that we have digitized something (it is a way of looking at it, although I do not share this view), from my point of view the concept of digitization or digital transformation has to go a little further.
If we digitize a document or information by transferring what we already had on paper, we are making a big mistake, we are wasting all the benefits that digitization can offer, and all the advantages offered by being able to consume information from a mobile device. Although a pdf is a portable document, it is not a document that has been designed to be consumed on mobile devices, much less when we are using the design of a menu in A4 format. A mobile device and the web offer almost infinite possibilities that can help improve the user experience far beyond a simple pdf.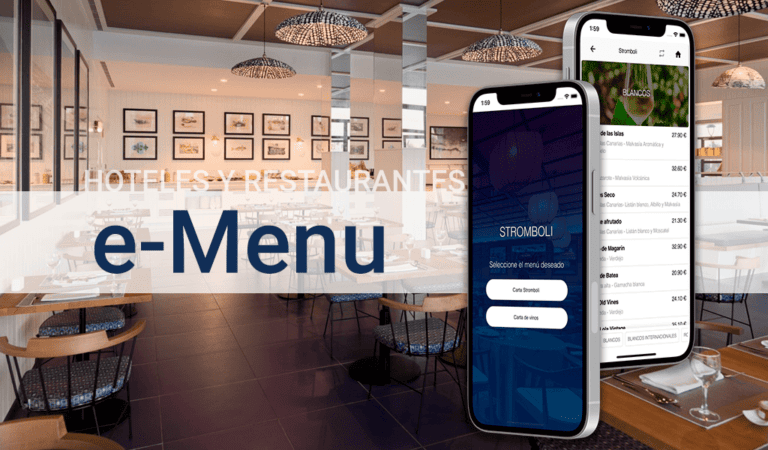 Digitize all the content separately, which allows us to have a Responsive menu that adapts to the screen of each device, thus being able to consult the information without having to zoom in, being able to use the mobile with only one hand.
Each dish or product is associated with a category, which later allows the user to filter for what they are really looking for or need. You will be able to consult, for example, only the desserts, or only the red wines without having to get lost among all the content. All from a category carousel located at the bottom, easily accessible with your thumb.
Does the user want to find a dish with Seafood or mushrooms? Using the search engine, just write the word Seafood and all products that include that word in the title or description will be displayed. If you want to search for pizzas that have mushrooms, type Mushroom in the search engine and you can see all the pizzas with that ingredient.
We can upload personalized images that represent each category, this will make our menu a little more visual, but if we also want to level up, we can put personalized photos of each dish. "A picture is worth a thousand words"
Multi-language with automatic detection.
Do you have clients who speak different languages?
No problem, we support 11 languages, from Catalan to Chinese. We aren't a fan of the language selection flags, therefore the platform will automatically detect the user's language (from their mobiles language) to show the menu in their language directly. If we do not have the menu translated in their language it will be displayed by default in English, as it's the most international language.
Each dish or product has its own description, which can be its ingredients or preparation in food, such as type of grape or origin in the case of wines.
Additionally, we can add a brief description or informative text under the title of the category or section.
Allergens per dish with their icons
To help you comply with EU Regulation 1169/2011, you can easily associate allergens to each product from our platform. By clicking on each icon the user will be able to see the meaning of each icon in their own language. In addition, we also include icons for Vegetarian, Vegan, Gluten Free or Spicy, for some religious cases we also have a pig icon.
In a restaurant we often find the same product that is sold in different portions or measures. To avoid having to create multiple products, we have incorporated a variation option, which, among other cases, allows you to show:
The same wine, priced by the glass, 350 or 750ml bottle.
Beer in a pitcher or bottle.
A portion of tapas with the price of a full or half portion.
There is always something to communicate to the client, be it a promotion, a star product or reduced hours. That is why when entering each menu, you will have the possibility of adding a personalized notification that appears in the client's own language.
In a hotel we find multiple rates depending on the client's acommodation type, which is why we offer an easy way to associate different prices to each product.
Multiple cards in one place
A restaurant or point of sale always has several menus (Wines, Drinks, Desserts, Children, general...) offering a different QR code for each one would end up being a hassle, and putting all the products under the same menu even more. For this reason we have created an index, which is accessed from the QR code and where all the cards are listed, being able to jump from one card to another easily.
Thanks to the order module, customers will be able to process orders directly from the menu, Room Service , Buffet... each order will go directly through the assigned printer or ticket printer.
Everything in the customer part looks very nice right? It improves when you know the management panel, where you can comfortably manage all the cards, all the products and their prices. Is a product running out, is there no dish? Don't worry, with two simple clicks you can deactivate the product from the customer list and reactivate it when you can offer it again.